Big Build Day – 17th November 2019
---
We're holding a Big Build Day on 17th November 2019 and we need all the help we can get to get the job done quickly. Please come and help build a brand-new section on The Monkey Trail. The first new section for 3 years, this is your chance to help eliminate boring fire-road and add more single track. Your help is vital to making a difference.
WHEN: Sunday 17th November 2019 at 11am. We'll have a quick explanation of what's going to happen and get stuck in. Overall, we expect to pack in no later than 3pm but you can leave whenever you like.
WHERE: Between 'Deer Skull' and 'The Original Monkey' on The Monkey Trail.
RSVP: We need to get an idea of numbers for catering. If you sign up you're in line for free food, drink and particularly cake! Please fill out the form below.
DIRECTIONS & PARKING: Driving and walking directions to get to the build site are below. If you have any questions please feel free to get in touch.
CLOTHING & TOOLS: Wear outdoor clothes and footwear for off-road and probably muddy ground (it's November after all). We have lots of tools but bring your favourite spade if you have one, just in case.
WHAT'S IN IT FOR YOU? Apart from cake; well there's new single-track trail that wasn't there before and most people are amazed by how much can get done and go home feeling they've had a good day out and put something back into the trails.
Directions and how to find the work site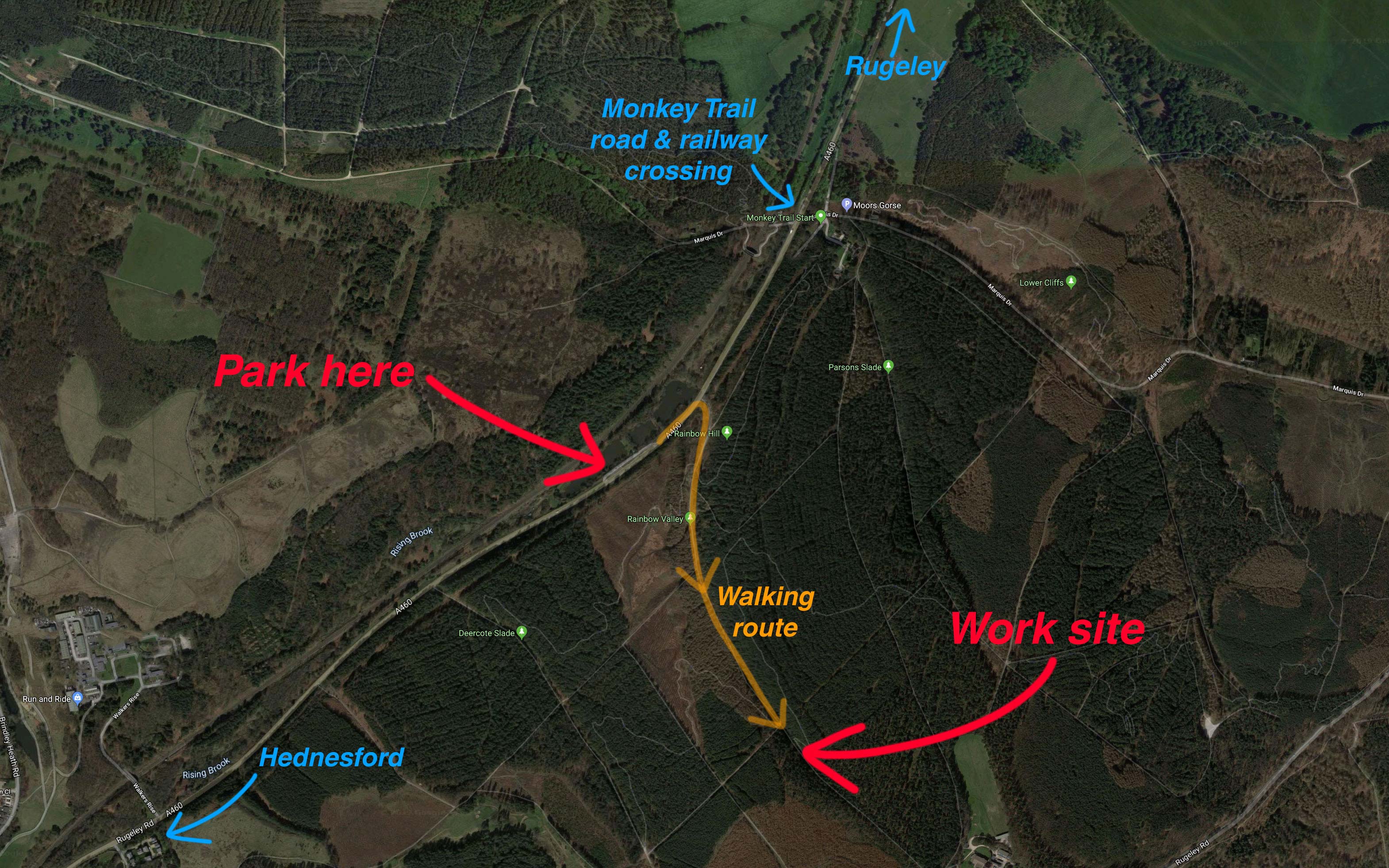 DIRECTIONS FROM RUGELEY:
Drive toward Hednesford on the A460/Hednesford Road. After passing signs to Slitting Mill look out for the 'Cyclists Crossing' sign.
After a short distance you'll see a large layby on your RIGHT – park here.
DIRECTIONS FROM CANNOCK/HEDNESFORD:
Travel along the A460 toward Rugeley. As you leave Hednesford the speed limit increases to 60mph.
Go past the 'Cannock Chase Enterprise Centre' (Walkers Rise, where Run & Ride is) on your left.
Follow the road for 0.8 miles and you'll see a large layby on your LEFT – park here.
(If you pass the 'Cyclists Crossing' sign, you have gone too far.)
DIRECTIONS FROM BIRCHES VALLEY:
Exit Birches Valley Forest Centre using the main entrance and turn RIGHT.
Turn RIGHT onto Penkridge Bank Road. Turn RIGHT onto Post Office Lane. Turn RIGHT onto Slitting Mill Road.
Follow this under the railway bridge then turn RIGHT onto the A460/Hednesford Road.
Look out for the 'Cyclists Crossing' sign – beyond this you will see a large layby on your RIGHT – park here.
WALKING DIRECTIONS ONCE PARKED:
Once parked in the lay-by, follow the footpath in the direction of Rugeley (North) and look for 'Chase Trails' banners on the other side of the road at a fire road entrance.
Cross the road (PLEASE USE EXTREME CAUTION, THIS IS A 60MPH ROAD AND IT IS VERY BUSY) and follow the 'fire road' up the hill.
Walk up the fire road (passing Klondike Bridge on the right) until you arrive at the obvious meeting point.