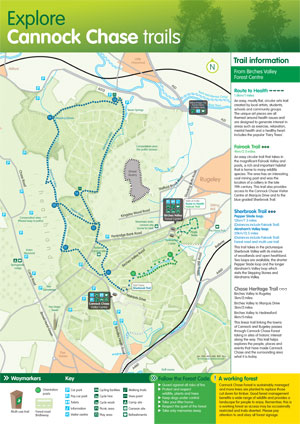 There are 3 cycle trails at the Chase designed for leisure cyclist and families. These trails are open all year round and are free of charge. The leisure trails have been developed from the long-established family routes around Cannock Chase, and all start from Birches Valley. These trails are shared with walkers, dogs, and horses, so please be polite and careful if you pass other forest users.
If you don't have a bike, you can hire one from Cannock Chase Cycle Centre, at Birches Valley. Trail maps are also available from Cannock Chase Cycle Centre for a small fee.
Route to Health Sculpture Trail
Grade: Green • Length: 1 mile
An easy, mostly flat, circular arts trail created by local artists, students, schools and community groups. The unique art pieces are all themed around health issues and are designed to generate interest in areas such as exercise, relaxation, mental health and a healthy heart. Includes the popular 'Fairy Trees'.
Fair Oak Pools Trail
Grade: Green • Length: 2.5 miles
An easy circular trail that takes in the magnificent Fairoak Valley and pools, a rich and important habitat that is home to many wildlife species. The area has an interesting coal mining past and was the location of a colliery in the late 19th century. This trail also provides access to the Cannock Chase Visitor Centre at Marquis Drive and to the blue graded Sherbrook Trail.
Sherbrook Valley Trail
Grade: Blue • Length: 7.5 – 12.5 miles
This trail takes in the picturesque Sherbrook Valley with its mixture of woodlands and open heathland. Two loops are available, the shorter Pepper Slade loop and the longer Abraham's Valley loop which visits the Stepping Stones and Abrahams Valley.
Heritage Trail
This route – of which most is managed by Cannock Chase District Council – runs from Rugeley to Cannock, and passes through Cannock Chase Forest taking in sites of historic interest along the way. This trail helps explore the people, places and events that have made Cannock Chase and the surrounding area what it is today. You can find more info about the Heritage Trail on the Cannock Chase District Council website.